Angel - our Sanctuary rescued dog
Year of Birth - 2016
Date arrived at Mane Chance - 2016
Breed - We don't know, she is a complete mixture!
Angel was abandoned in a park and left to fend for herself. She followed another dog being walked by his owner back to his house one day - in a poor state – underfed, with mites and in real need of care! The dog walker knew one of our volunteers and asked her for help. She took Angel to the vet to see if she was microchipped (she wasn't) and tried to find out if she had been reported missing but no one came forward. During this time of searching, Angel visited the Sanctuary a couple of times and everyone immediately fell in love with her – she is incredibly gentle, calm and always up for cuddles. When the time came for her to need a home, we had absolutely no hesitation in taking her in and she spends each day at the Sanctuary, going home at night with Abi, our general manager. Quite soon after joining us, she became lame on one leg and we discovered that she had a bone infection in one of her toes. Unfortunately, she had to have the toe amputated but she recovered well and manages perfectly well without it – only limping a bit now and then when she is tired and has been playing too much!
Angel is a hugely important part of the Sanctuary and welcomes all of our visitors with big bright eyes and a wagging tail! She loves playing with all our visiting dogs too and is often found chasing around the orchard, running at top speed. She is very good-natured and only ever barks in play or when she is asking us for a biscuit!
She is a wonderful animal to have at the Sanctuary and we are very pleased she found us – her name certainly fits her nature!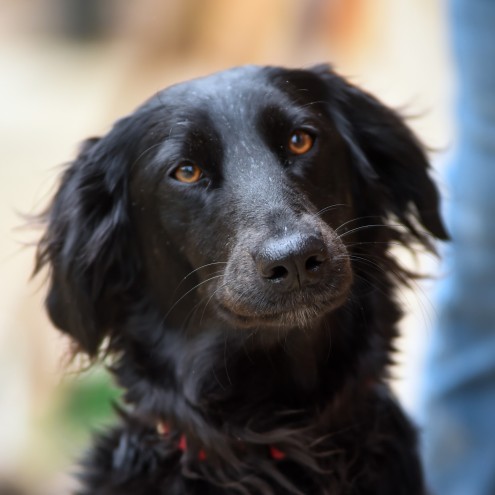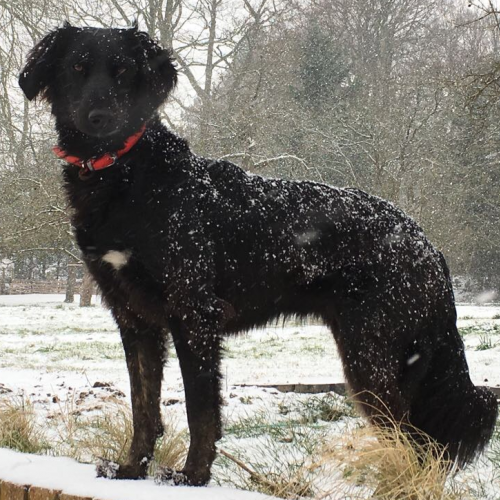 You may also be interested in:
Our chickens
Our rescued chickens are a wonderful part of our Sanctuary family.
Our community
There are a number of ways for our community to share our Sanctuary and our horses.
Support Us
There are a number of ways that you can support our work.